KitchenAid Blender Cutter Blade Assembly 9704291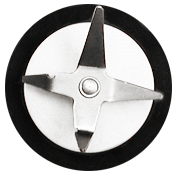 KitchenAid Blender Cutter Blade Assembly 9704291
For models numbered:

KSB3 KSB3AC KSB3WH KSB5 KSB5WH KSB5WW KSB5AC KSB5BK KSB5BU KSB5CP KSB5CR KSB5ER KSB5GN KSB5GR KSB5MY KSB5NK KSB5OB KSB5SS KSB5SSBK KSB5SSOB KSB3BK KSB5BK KSB5-1
Durable stainless steel blade
Simple one piece assembly
Fits most KSB5 and KSB3 series blenders
Product diameter: 3 1/8"
Gasket Included.
This blade assembly will include the 9704204, KitchenAid blender blade assembly gasket.
This part fits the newer KSB5 and KSB3 series blenders with "push in" lids.
Reviews