Dolphin Diag US 2010 Power Supply DC - 115V - 9995670-US-ASSY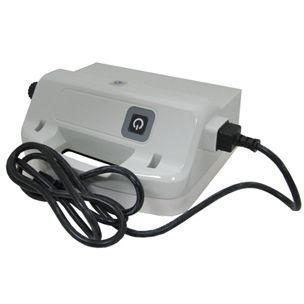 Dolphin Diag US 2010 Power Supply DC - 115V - 9995670-US-ASSY
GENERAL DESCRIPTION:
This is the power supply used on some Dolphin Cleaners. This is the newer style power supply which is wider and lower in profile. This also includes a caddy adaptor so this may be mounted on the caddy.
MATERIAL:
The basic body is a very light green gray plastic color. The base has an aluminum heat sink built in just inside of the bottom grill. There is a handle built into the top to carry. On the front right is an on/off switch. On the side is a plug in for the cleaner cable. The plug in includes an attached cover for use when the cable is not conntected. The cord is 7 ft with a NEMA 3-prong grounded plug which plugs in on the right side.

---
DIMENSIONS:
(Including the caddy adaptor on the bottom)
WIDTH: 10-1/4" (A) (BASIC BODY, NOT INCLUDING SMALL EXTENSIONS ON THE SIDES FOR PLUG INS
FRONT TO BACK: 8-3/8" (2 SMALL EXTENSIONS ON THE BACK OF THE CADDY ADAPTOR EXTEND 1/2" BEYOND THIS)
HEIGHT: 4-1/2" (B)
MARKINGS: THERE IS A LABEL ON THE BACK WITH THESE MARKINGS
TYPE: DIAGNOSTIC DC P.No. 9995670 INPUT: 100-250 VAC 50/60 HZ OUTPUT: DC 29V 180W"
Reviews